Escape rooms have people of all ages enjoying the thrill of solving puzzles and clues to escape a themed room. But what if you can't make it to a physical escape room? Escape room board games offer the a simplified escape experience in the comfort of your own home.
Here are some of the best escape room board games currently available:
This game from Kosmos is a fantastic escape room-style game for both casual and hardcore puzzle enthusiasts. The game is designed for 1-4 players, and it offers a wide variety of challenging puzzles that will test your problem-solving skills. The puzzles are well-designed and integrated into the theme of the game, making it feel like you're actually exploring a mysterious museum. The components of the game are high quality and well-made, adding to the overall immersive experience. The hint system is also well-implemented, making it easy to get help when you're stuck without giving too much away.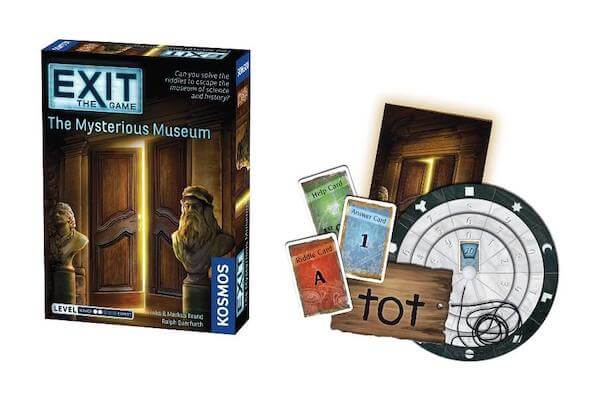 This card-based escape game has you attempting to get out of Doctor Thyme's laboratory as quickly as possible. The game is designed for 1-6 players and the directions are easy to follow. The puzzles are integrated seamlessly into the theme and are not overly challenging. The clue cards are well-implemented, making it easy to get help when you're stuck without giving too much away. The game doesn't have a lot of replay value, but it is an easy play with a group of friends. Overall, we think Deckscape: Test Time does a great job of packaging an easy and fun to play escape experience.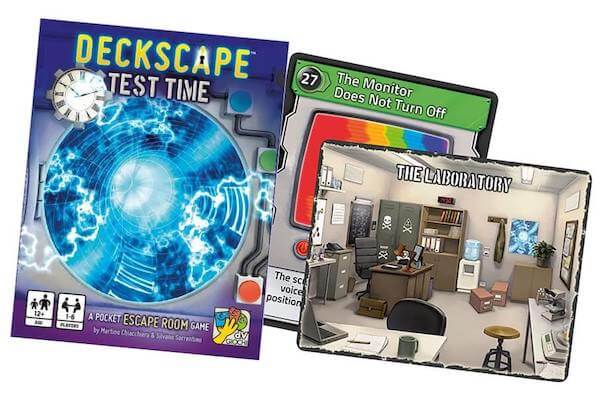 This game from Identity Games allows players to experience the thrill of an escape room in just an hour. With four different scenarios to choose from, players must work together to solve puzzles and escape before time runs out.
Designed for 3-5 players, it comes with four different scenarios: Prison Break, Virus, Murder Mystery, and Funland. Each scenario offers a unique and challenging experience with puzzles that are well-designed and integrated into the theme. The game's components are high quality and well-made, adding to the overall immersive experience. The puzzles can be challenging at times, but the hints are well implemented. The game also offers a time-pressure aspect which adds to the excitement and makes it more challenging. Overall, Escape Room: The Game is a fun and engaging option for anyone looking for a unique and challenging puzzle experience.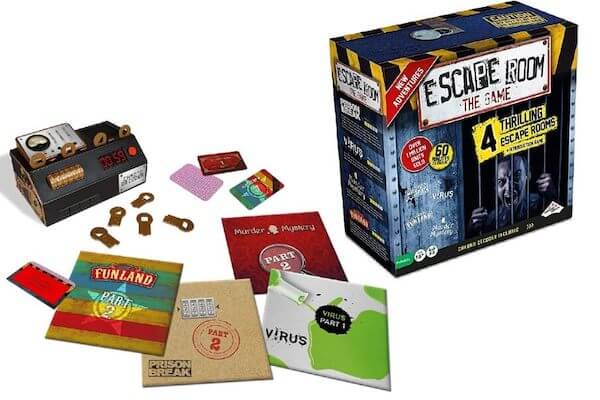 This game from challenges players to solve puzzles and find clues to escape a mysterious manor. With multiple levels of difficulty, this game is perfect for both beginners and experienced escape room enthusiasts.
Escape the Room: Mystery at the Stargazer's Manor from ThinkFun is a cooperative mystery game, set in the late 1800s, in which 3 or more players must solve puzzles and gather clues to uncover what happened to a famous astronomer. The gameplay involves solving puzzles and opening different envelopes to progress through the story, using the Solution Wheel to match specific icons to move forward. The game offers a unique and immersive experience, recreating the some aspects of real-life escape rooms in board game form. However, it may be too easy for some and can only be played once, so it's recommended to purchase it on sale. Overall, it's a fun and enjoyable game for families to enjoy.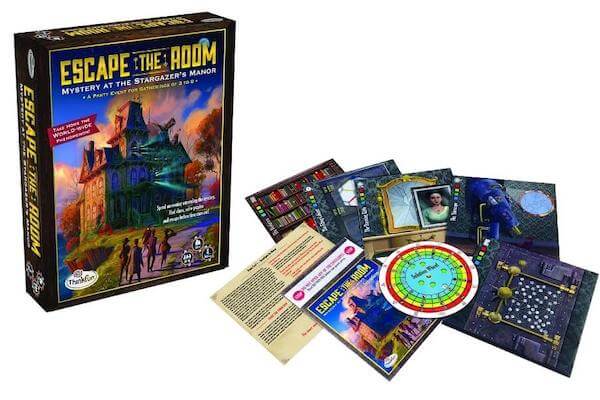 Scooby-Doo: Escape from the Haunted Mansion is a cooperative escape room game in which 1-6 players take on the roles of the Mystery Incorporated gang as they attempt to solve a ghost mystery and escape from a haunted mansion. The gameplay involves moving from room to room, drawing clue cards and opening secret envelopes to progress, using the unique skills of Scooby-Doo, Shaggy, Fred, Velma, and Daphne to find clues and solve puzzles.
The game is designed to feel like a real Scooby-Doo episode, with an engaging story, humor, art, and puzzles that pull players into the world. The game features a unique mechanic in that each character has an ability that interacts with the map or clue cards in a unique way. The game also has a good puzzle variety, a solid hint system, and allows players to play as all characters. The game has simple rules, and is great for groups of Scooby-Doo fans.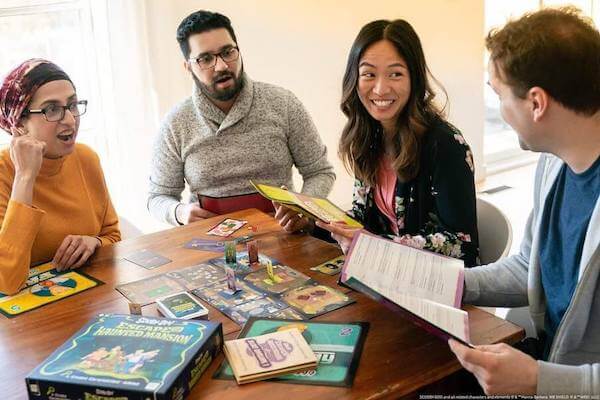 ---
Overall, these games are a great way to experience the excitement and challenge of an escape room without leaving the house. With a wide variety of themes and difficulty levels to choose from, there is something for everyone. So gather your friends and family, and get ready to put your problem-solving skills to the test!
Looking for something a bit more immersive? Try a live escape room today!
---